YoY®-Digital Consumer TouchPoint CMS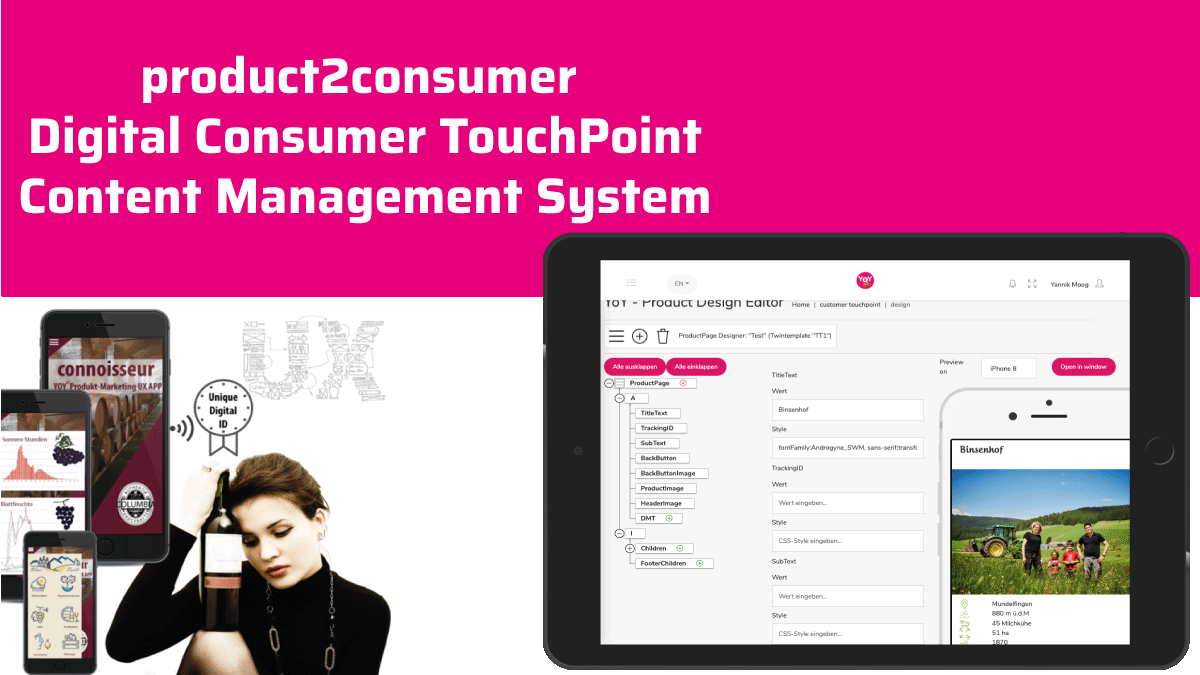 What is the challenge?
Direct communication with consumers is a critical success factor, especially for manufacturers. It is also important to have the communication channel completely in your own hands. Fast response times are desired in order to be able to deliver really relevant content. And of course, enough room for manoeuvre is necessary to turn creative ideas into reality.
What is special?
The YoY® Digital Consumer TouchPoint CMS is the design platform for the individual BrandUX app. The YoY® platform itself regularly provides new ideas that companies can implement independently with their own content using the CMS.
Compatibility with the YoY®-Plattform
YoY® Digital Consumer TouchPoint CMS is a standard module of the YoY® Product2Consumer Digital Marketing Channel & Consumer Touchpoint. The CMS is assigned to the YoY® BrandUX App.
Both Building Blocks are part of the YoY® cosmos: Taken together, the YoY® platform creates the vision of the Intelligent Enterprise. It enables direct communication with end customers in the most important phases of the customer journey. It also generates data that is available for AI analyses and forecasts.
Area Relevance

What relevance does the Building Block Module develop for the individual divisions?
Supply Chain Management
100%
CSR - Corporate Social Responsibilty
33%
Quality Management and Assurance
75%
Strategic IT & Digitalisation
25%
Procurement Management
75%
Corporate-Strategy CEO
20%