YoY®-ERGONOMIXX®
Digitisation of analogue touch points in production and supply chain
What is the challenge?
Especially in production and logistics, employees still work a large number of so-called analogue TouchPoints for data maintenance. According to a McKinsey study from 2019, shop-floor employees spend about 25% of their working time collecting data and another 10% on data processing, a huge potential for optimisation:
Process postings are made almost exclusively by dedicated clerks and mostly ex post
Shop-floor staff shy away from working directly with the SAP system, as interfaces are very complex by nature.
Process-relevant information from outside the SAP ERP reaches the clerk via different channels, different media and never in real time.
Process-relevant information is distributed to different containers (third-party systems, Excel, measurement data, QM systems, etc.)
Work processes have touch points on different IT systems.
The consequences:
SAP-ERP cannot adequately support the actual process flow at the analogue TouchPoints
Posting statuses often do not correspond, as posting is done ex post and not in real time
Process-relevant information is not always available in its entirety at the time when employees involved in the process have to make operational decisions.
Workflows are interrupted
Multiple entries are necessary, sources of error arise
Process-relevant information is lost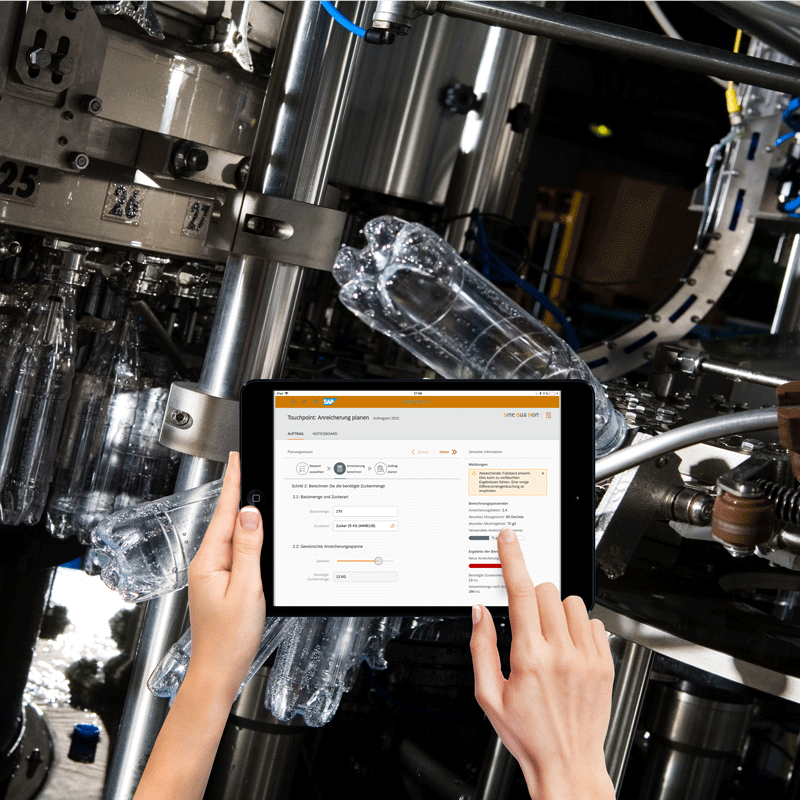 Augmented Workplace as a Digital TouchPoint in Production
YoY®-ERGONOMIXX® Augmented Workplace
What is special?
The concept of the YoY®-ERGONOMIXX® Augmented Workplace enables human-centred robotic process automation, which expands the capabilities of the industrial information worker and frees them from repetitive tasks.
The points in detail:
With the help of the YoY®-ERGONOMIXX® Apps, all analogue input interfaces into the ERP system can be digitised. This ensures that all data in the ERP is recorded in real time and correctly. Digitisation efforts must start by eliminating all remaining analogue touch points.
Third-party application integration
Machine data and IoT connection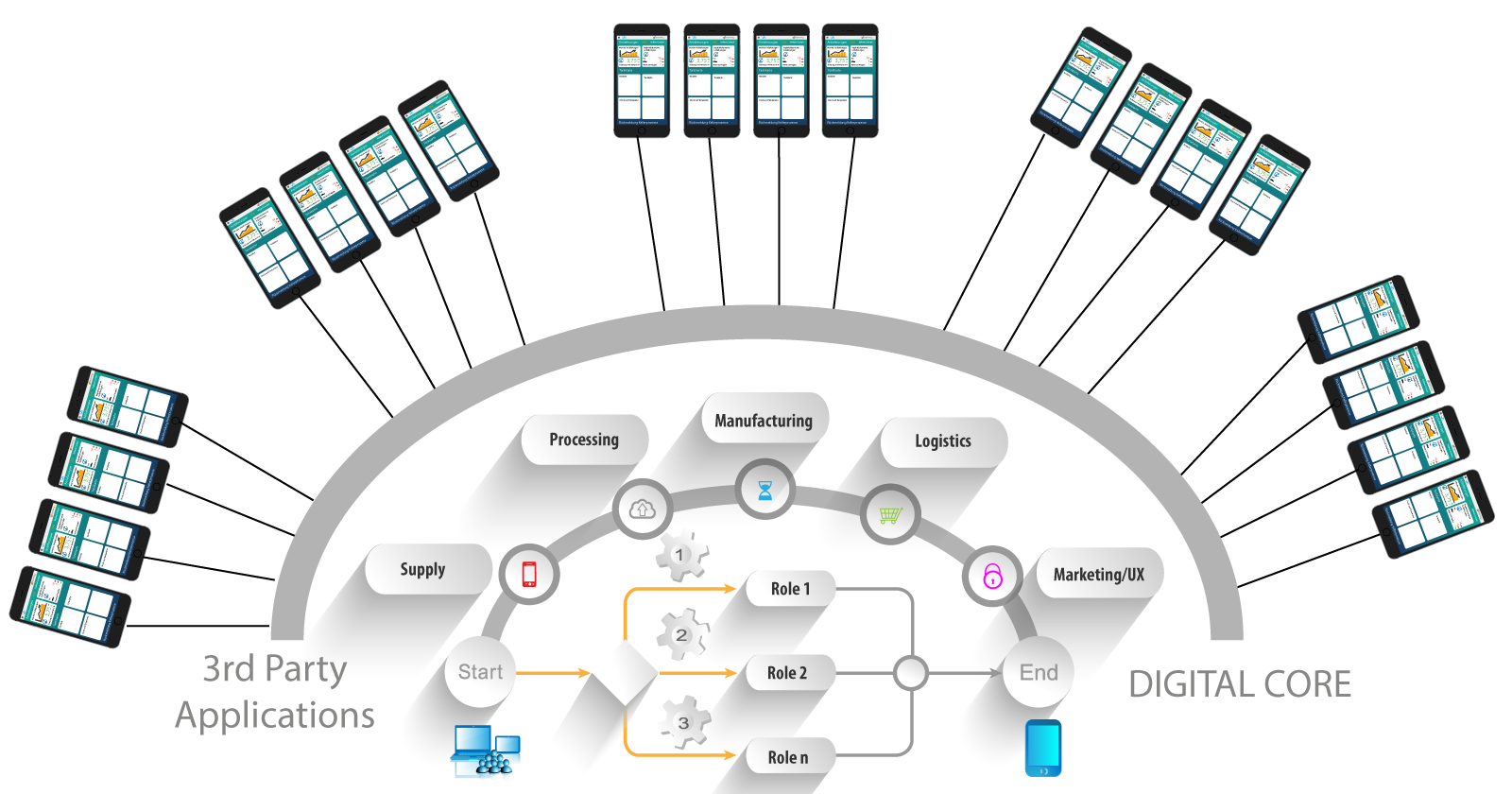 The YoY®-ERGONOMIXX® solution

YoY®-ERGONOMIXX® Micro-Apps are used directly by the information worker and have the following features:
SAP ERP masks in single apps
User interface device-independent & according to Fiori guidelines (SAP UI 5)
Maximum minimum amount of information
Context-sensitive default setting
Sensory & actuator connection of peripheral systems in manufacturing & logistics
End-device capabilities are used sensorially
Integration/connection of the cyber-physical sphere via IoT measurement sensors from all stages along the value chains to start eliminating all remaining analogue touch points.
Operating data acquisition
Embedded Artificial Intelligence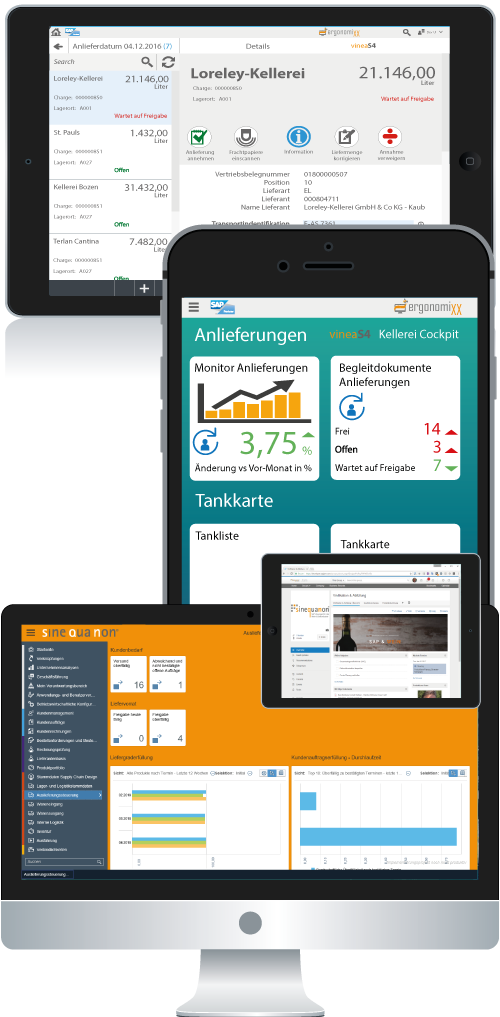 A tracking & tracing engine enables access to data sets structured along the value chain
Advanced Analytics & Machine Learning
Compatibility with thte YoY®-Plattform
YoY®-ERGONOMIXX® Augmented Workplace can be an essential foundation of a digitalisation strategy in the supply chain. This is because analogue interfaces to the systems and any media breaks are avoided. Clean data stocks in real time and without redundancies are the immediate result. The apps can be used completely independently of all other YoY®-Building Blocks.
However, YoY®-ERGONOMIXX® Augmented Workplace is without doubt also an essential building block if a YoY® platform strategy is being pursued. Because this is of course dependent on a valid data stock of the product2consumer process.
YoY®-Digital Twin - p2c Big Data Track&Trace Big Data repository & Blockchain Integration: The YoY®-Digital Twin thus serves as a central data repository for all structured p2c data.
YoY®-vineaS4® - Production and Batch Tracking Cockpit: YoY®-vineaS4® is the central planning cockpit from which the individual scheduling stages of a production can be planned and from which individual orders are transferred to the YoY®-ERGONOMIXX® apps.
Area Relevance
What relevance does the Building Block Module develop for the individual divisions?
Supply Chain Management
100%
CSR - Corporate Social Responsibilty
10%
Quality Management and Assurance
100%
Strategic IT & Digitalisation
100%
Production Management
100%
Procurement Management
75%
Corporate-Strategy CEO
75%
YoY®-ERGONOMIXX® Augmented Reality Layer