YoY®-vineaS4 Batch Traceability & Production Planning Cockpit SAP PP/PP-PI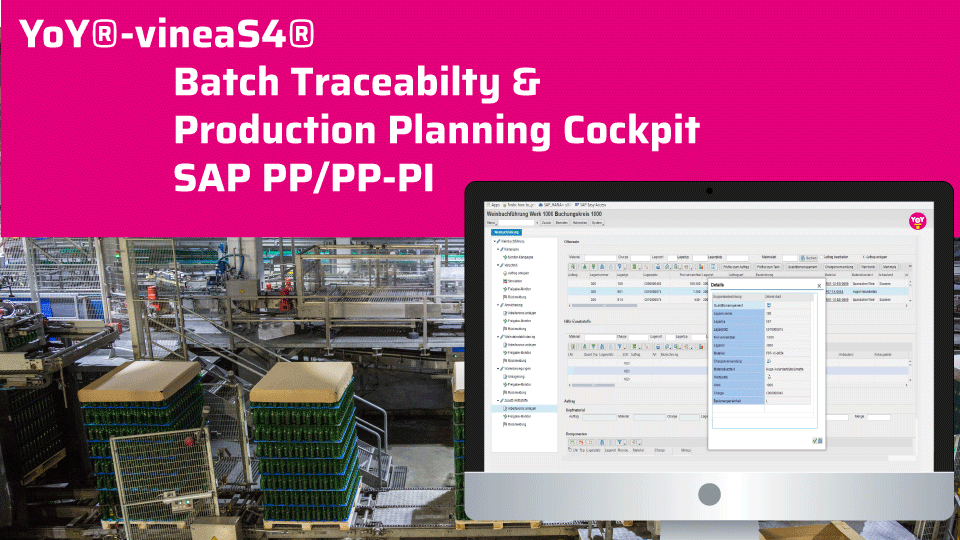 What is the challenge?
Especially when SAP PP/PP-PI production orders include several MRP levels, the following problems occur:
A clear planning of all MRP levels is not possible
MRP runs must be carried out individually for each MRP level.
Batch tracing is associated with a high level of effort
Significantly more extensive booking procedures entail a high susceptibility to errors. Statutory documentation requirements, such as for wine and sparkling wine, cannot be fulfilled in the standard system.
What is special?
YoY®-vineaS4 is a central production planning and tracing cockpit for SAP PP/PP-PI processes, in which the production flow can be processed together with all scheduling levels.
Batch tracing of the company's internal supply chain can be guaranteed without additional effort, even in accordance with strict legal regulations. MRP runs of several MRP levels can be combined.
Compatibility with the YoY®-Plattform
YoY®-vineaS4 can be used completely independently of all other building blocks of the YoY® platform for SAP systems.
As traceability of the extended supply chain also requires internal batch tracing, YoY®-vineaS4 can make an important contribution. Together with the YoY®-Digital Twin - p2c Big Data Track&Trace Big Data repository & Blockchain Integration, it is then possible to map the complete product2consumer process in a uniformly structured dataset.
Area Relevance
What relevance does the Building Block Module develop for the individual divisions?
Supply Chain Management
100%
CSR - Corporate Social Responsibilty
20%
Quality Management and Assurance
100%
Strategic IT & Digitalisation
25%
Production Management
100%
Procurement Management
75%
Corporate-Strategy CEO
20%